Mississippi Plastic Surgeons Honored for Breast Leadership
Dr. Stephen Davidson and Dr. Shelby Brantley named to LEAD Advisory Board
Stephen Davidson, M.D., and Shelby Brantley, Jr., M.D., were selected for the prestigious LEAD program advisory board for 2014. They met with other renowned plastic surgeons from throughout the United States November 7-9, 2014, in Dallas to assist breast implant manufacturer Mentor Worldwide in shaping the future of breast aesthetics. These two board-certified plastic surgeons of The Face and Body Center, located in Flowood, Mississippi, were chosen to attend this conference for their extensive experience, patient-focused approach and demonstrated expertise in plastic surgery and breast augmentation.
"This program provides a great forum to exchange ideas, clinical perspectives and technology with the leaders in breast surgery," says Dr. Stephen Davidson.
"I have been honored to serve on the LEAD Advisory board for Mentor Corporation for several years," adds Dr. Shelby Brantley. "Valuable insight is garnered and provided by my esteemed peer group as we help shape the future of aesthetic and reconstructive breast surgery. "
Each year, an exclusive nationwide group of plastic surgeons is invited to participate in the LEAD program and are encouraged to provide recommendations that will enable Mentor's products and programs to meet the highest standards for safety and beauty.
LEAD stands for Leadership, Experience and Development in Breast Augmentation. Mentor, a global maker of aesthetic products, has manufactured breast implant devices for more than 20 years. The company's breast enhancement offering include MemoryGel®, MemoryShape®, and Saline® breast implants.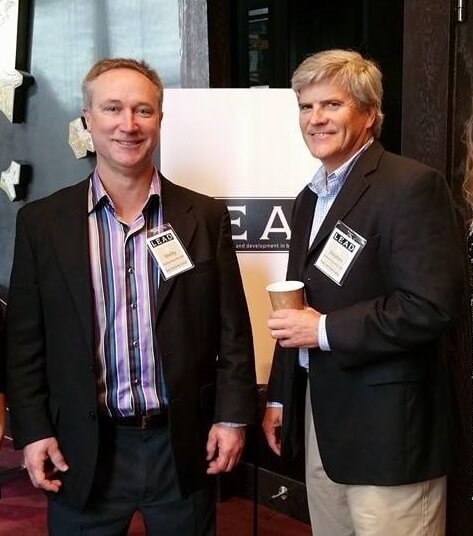 Dr. Shelby Brantley and Dr. Steve Davidson at the MENTOR 2014 LEAD program in Dallas, TX. The LEAD meeting consists of 31 plastic surgeons from across the country who are invited to share in both ideas and development in safe, excellent surgical outcomes.