Mommy Makeover – Dr. Adrian Smith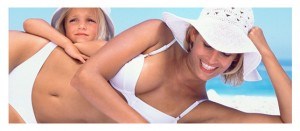 Pregnancy can take a toll on our bodies, affecting our breasts, tummies, legs and more.  After months of nursing—you are probably longing for your pre-baby body. Many mothers experience lasting effects from the physical rigors of pregnancy and have trouble reversing them on their own.  Stretching of the abdominal skin, sagginess in the breasts, premature aging, and signs of exhaustion in the face and an array of other aesthetic issues are often brought on by pregnancy and child-rearing.  Many women begin to feel a lack of self-confidence in the way they look after pregnancy.
The plastic surgeons here at The Face and Body Center offer what they call the Mommy Makeover. These procedures address woman's post-pregnancy body issues in a single-session surgery that typically combines some or all of following:
1.  Abdominoplasty/Tummy Tuck Designed to tighten and flatten the abdomen by removing excess fat and abdominal skin and by tightening muscles of the abdominal wall.  It is best suited to women and men in relatively good shape, but who have loose abdominal skin and/or significant amount of abdominal fat that won't respond to dieting or exercise.  The procedure corrects muscles weakness and tightens loose skin that can occur from weight loss, aging or pregnancy.
2.  Breast Enhancement – Lift, Augmentation  Lift: Also known as a mastopexy, a breast lift raises and firms the breast by removing excess skin and tightening the surrounding tissue to reshape and support the new breast contour.  Although a breast lift does not significantly change the size of your breast, it can be a worthwhile option for women after child birthing years. Augmentation: "After lifting your breast, you may want to consider adding an implant, says Dr. Adrian Smith, board certified physician at The Face and Body Center.  Whether you choose a saline or silicone gel implant, both of these options will give you the fullness and shape that you had before pregnancy."
3. Fat Removal with Liposuction During this procedure, fat deposits are removed from the body in places such as the abdomen and/or legs, giving you a smoother and slimmer body contour.
4.  Labiaplasty "Labiaplasty is becoming an increasingly popular operation, says Dr. Smith.  With a quick outpatient procedure, the extra tissue from the labia minor can be removed with a nearly invisible scar."  Special incisions are crafted to prevent painful scar tissue formation and the postoperative wound care is quite simple.  Patients can resume their normal lifestyle within a few days and the dissolvable sutures are usually gone within a week or so.  Oral pain medication is only necessary for a couple of days.