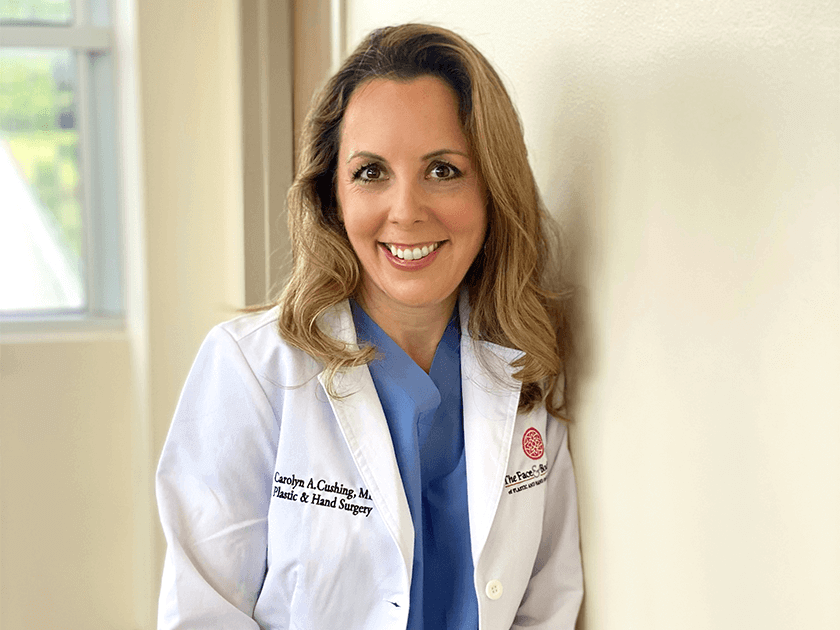 Dr. Carolyn Cushing is a board-certified plastic and reconstructive surgeon in Flowood, MS with specialized fellowship training in hand surgery. Dr. Cushing enjoys helping patients reach their personalized goals through both surgical and non-surgical techniques. She has extensive experience across the spectrum of plastic surgery, including hand, breast, body contouring as well as facial rejuvenation. Prior to joining the team at Face and Body, Dr. Cushing served as the Director of the Hand Surgery Fellowship at the University of Mississippi Medical Center.
Dr. Cushing performs a wide variety of cosmetic, reconstructive and hand surgery procedures on her Flowood, MS patients of all ages. She treats all aspects of hand concerns, including carpal tunnel, trigger fingers, and hand trauma, as well as treating chronic conditions such as arthritis. Dr. Cushing also specializes in breast surgery including breast reductions, augmentations and implants, and lifts. She treats clients who desire a more rejuvenated appearance as well as patients who desire body contouring after weight loss. Using both non-surgical approaches such as injectables and laser therapy as well as cosmetic and reconstructive surgery, Dr. Cushing helps her patients reach their goals with a patient-centered, compassionate approach.
Raised in Texas, Dr. Cushing attended her hometown University of Texas at Austin prior to completing her medical degree and a highly-competitive integrated plastic surgery residency at the University of Texas Medical Branch. Dr. Cushing then went on to complete a hand surgery fellowship at Baylor College of Medicine in Houston, Texas. Dr. Cushing is board certified by the American Board of Plastic Surgery with an additional board certification in hand surgery (CAQH). She moved to Mississippi to begin her surgical career and has made the Madison area her home.
Dr. Cushing and her husband, Dr. Brian Tieu, enjoy spending time with their five young children and their farm animals in Madison, Mississippi. When not bottle-feeding a baby llama, Dr. Cushing enjoys gardening, riding horses and bicycling with her kids.
Dr. Cushing's Post Op Instructions