Protect the skin you're in - Dr. Dev Manisundaram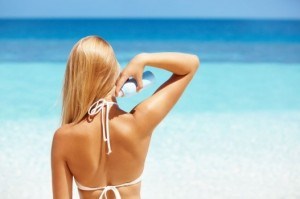 Do you worship the sun or tanning bed? A tan, whether you get it on the beach, in a bed, or through incidental exposure, is bad news, any way you acquire it. Tans are caused by harmful ultraviolet (UV) radiation from the sun or tanning lamps, and if you have one, you've sustained skin cell damage.
May is skin cancer awareness month and The Face and Body Center knows just what to do to protect that beautiful skin you're in.  
Seek the shade, especially between 10 AM and 4 PM when the sun is strongest. An extra rule of thumb is the "shadow rule." If your shadow is shorter than you are, the sun's harmful UV radiation is stronger; if your shadow is longer, UV radiation is less intense.
Avoid tanning beds. UV radiation from tanning beds is known to cause cancer in humans, and the more time a person has spent tanning indoors, the higher the risk. "Those who make just four visits to a tanning salon per year can increase their risk for melanoma by 11 percent, says Dr. Dev Manisundaram, board-certified physician at the Face and Body Center.  Their risk for the two most common forms of skin cancer, basal cell carcinoma and squamous cell carcinoma, increases by 15 percent."
Use a broad spectrum (UVA/UVB) sunscreen with an SPF of 15 or higher every day.  The Face and Body Spa sells products such as Elta MD UV Clear Broad Spectrum SPF 46, Obagi Healthy Skin SPF 35 and Skin Medica Environmental Defense SPF 50. Apply 1 ounce of sunscreen to your entire body 30 minutes before going outside. Reapply every two hours or immediately after swimming or excessive sweating.
Examine your skin head-to-toe every month. "While self-exams shouldn't replace the important annual skin exam performed by a physician, they offer the best chance of detecting the early warning signs of skin cancer explains Dr. ManiSundaram. If you notice any change in an existing mole or discover a new one that looks suspicious, see a physician immediately."
Do not burn. A person's risk for melanoma doubles if he or she has had five or more sunburns at any point in life.