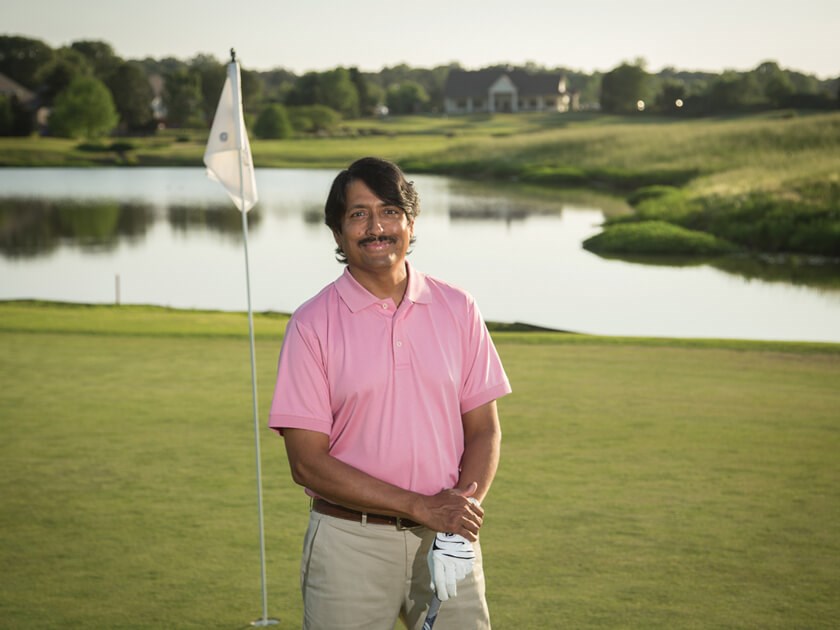 Dr. Dev A. ManiSundaram is a plastic and reconstructive surgeon in Flowood, MS, and is board-certified by both the American Board of Plastic Surgery and the American College of Surgeons. He performs procedures in all areas of plastic surgery including after weight loss and body contouring, as well as facial rejuvenation treatments and surgeries. Dr. ManiSundaram holds many accolades for his work and has been recognized as a life member of the National Registry of Who's Who. Renowned for his commitment to his work and his patients, Dr. ManiSundaram is a highly recommended surgeon in the aesthetic industry.
Dr. ManiSundaram performs both surgical and nonsurgical procedures for the face, breast, body, and skin. Some of his most popular breast surgeries include breast augmentations, breast reductions, and breast reconstructions. He offers nonsurgical approaches using laser technology for the face, but also performs multiple cosmetic surgeries including facelifts, brow lifts, and eye lifts. Body contouring surgeries for after weight loss patients are among Dr. ManiSundaram's procedure specialties, such as abdominoplasties and lower body lifts.
Dr. ManiSundaram received his Doctorate of Medicine and completed his residency in general surgery at the University of Madras in India. He then went on to perform extensive research in the field of transplant surgery at Rush Presbyterian St. Luke's Hospital in Chicago, IL. Additionally, he completed a general surgery residency at the University of Illinois MGH, and a plastic surgery residency at the University of Mississippi Medical Center in Jackson, MS.
As an appointed clinical instructor at the University of Mississippi Medical Center in the Department of Surgery, Dr. ManiSundaram is also esteemed to hold memberships in:
The American College of Surgeons

The American Society of Plastic Surgeons

The American Society of Aesthetic Plastic Surgeons

The Southern Medical Association

The Southeastern Society of Plastic and Reconstructive Surgeons

The Mississippi State Medical Association
Dr. ManiSundaram has several medical affiliations, including:
St. Dominic-Jackson Memorial Hospital

River Oaks Hospital

Woman's Hospital at River Oaks

The Plastic Surgical Center of Mississippi

The Central Mississippi Medical Center
Dr. ManiSundaram is married to his wife, Brinda, and has three children, Arvind, Naveen, and Krish. View our website or contact our office to learn more about Dr. ManiSundaram's provided services.
Privileges
Reviews
"Dr. ManiSundaram is a great doctor. His staff and the facility are very nice as well. Go see them for all your needs."
E.G.
Google
"My wife had to have carpal tunnel and finger trigger release surgery. I took her to see Dr. Manisunduram. The facility is very nice but Dr. Mani was great. He explained everything about the surgery before it was done and the post op as well. The staff were exceptional as well as the Doctor. I would highly recommend this facility and Dr. Mani. to anyone needing this type of care."
S.G.
Google
"Best Surgeon in the South! - I had a fantastic experience with Dr. Brantley! He is a sweet southern gentleman and made me feel very comfortable throughout the entire process. My breasts look soooo natural and perky, I love them!! He knew the perfect size to fit my body. I couldn't have asked for better results and I makes sure to recommend him to everyone I know! The clinic he works at in Flowood is very appealing and the staff was very proficient. His nurses, Susan and Devin, were also fantastic!! They both went out of their way to make sure I had all the information I needed and talked me through all the details of the procedure. I went from an A cup to a C cup and I've never been so excited to look in the mirror!"
Anonymous
Vitals
"Thank you Dr. Mani - Dr. Mani and his staff made my breast reduction the best decision of my life. They answered all of my questions before my surgery and they called to check in me post op. I am very satisfied with the results and would highly recommend them to anyone."
S.
RealSelf
"No REGRETS. Healed!! - Dr. ManiSundaram is a very professional plastic surgeon, he took time to listen and read my emails. During my office visit we went over my emails again to be sure that I understand. He told what my expectations should be after surgery. Overall he was great and if I have to do anything else I would defiantly go back to him. If anyone is seeking a Plasitc Surgeon in MS please check out Face and Body Plastic & Hand Surgical Center"
D.
RealSelf
Related Posts